Events/Trainings/Retreats
Back to all Events
Peru Retreat 2022
Join Yoga Loft owner Justin Randolph with The Soundscape Healing Project (Victoria Greene + Angela Rauscher) for a magical journey to one of the oldest civilizations in the world. Immerse yourself in spiritual ceremony and honor the abundance of mother earth.

May 21-28, 2022

Click here to watch a VIDEO about where we will be going!

RETREAT INCLUDES
8 days and 7 nights.

1 night in Cusco

5 days and 6 nights at the exclusive Willka T'ika Retreat in heart of the sacred valley

3 meals per day (except 1 lunch in Cusco, and 1 lunch in the Sacred Valley)

Yoga Classes & Meditation Practices

TheSHP Signature Sound-bath immersion sessions

Group Airport transfers to/ from Cusco Airport and all transfers to Willka T'ika and excursions sites

All excursions (details below)
EXCURSIONS AND SPECIAL ARRANGEMENTS
Andean Guide for the whole week of activity.

Walk though San Blas to the Korikancha temple in Cusco

Meditate on the giant stones of Sakaywaman and journey on to the Incan ritual fountains at Tampumachay to participate in a Yaku ceremony

A visit to a Quechua mountain school, to enjoy the warmth and welcome of the children as we offer a special activity to the community. Continue on to the spectacular ruins of P'isaq, a hike that leads us up to the Temple Of The Sun. Enjoy P'isaq famous market place

A day of celebration and awe of Machu Picchu and Inti Punku, the Incan gateway to the Sun

Visit the ceremonial site of Ollantaytampu and enjoy this quaint and picturesque town.


Sample Day:

7:00am TheSHP Morning Class & Meditation
8:30am Group Breakfast
This day is dedicated to Pachamama, Mother Earth, relax or meditate in the splendors of Nature. We receive an introduction to the Seven Chakra Gardens and Attune to their energies. Optional guided walk through the Rumichaka farming neighborhood where the Quechua campesinos, farmers live.

1:00pm Wholesome gourmet vegetarian lunch
3:30pm TheSHP Special Workshop.
6:00pm Group Dinner
Evening – a full group Andean offering and transformative fire ceremony with a high level pakko. The ceremony serves as a wonderful preparation of mind, body and spirit for your pilgrimage to Machu Picchu.

OUR UNFORGETTABLE HOME BASE OF WIILKA T'IKA
Beautifully appointed guest rooms. Spa services, Scared rituals with a Q'ero Pakkko healer and Stunning chakra gardens to enjoy throughout your stay. Willka T'ika is a world renowned luxury retreat center which supports local community.

The cuisine at Willka T'ika is an exotic fusion of Andean, American, South Asian and African flavors. Willka T'ika has the only 100% hormone-free and chemical-free gourmet vegetarian hotel kitchen in Peru's Sacred Valley. The gardens are strictly organic, freshly harvested vegetables and salads grown on-site.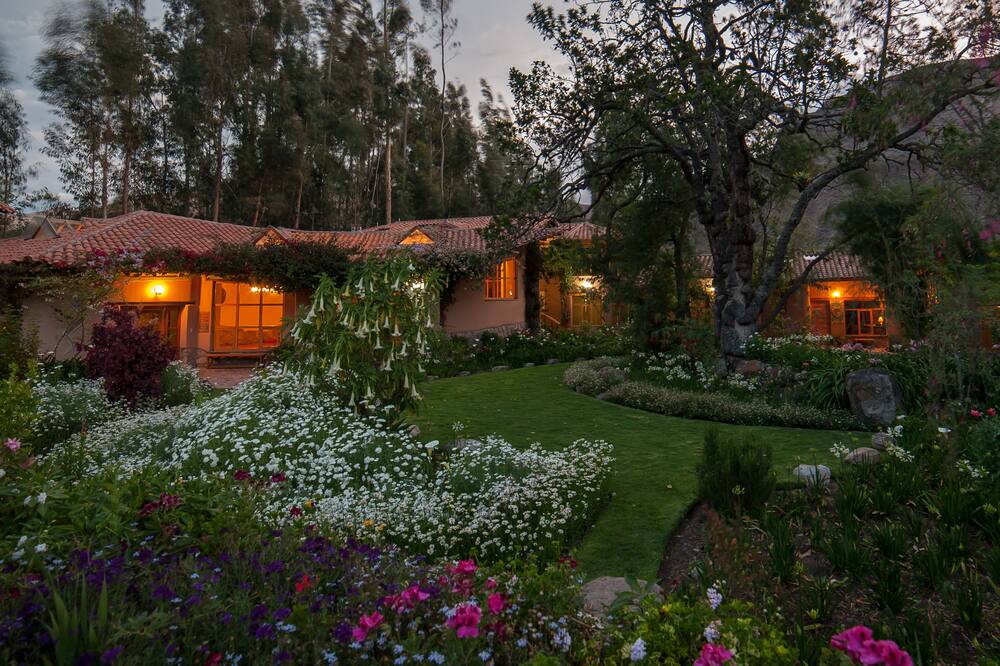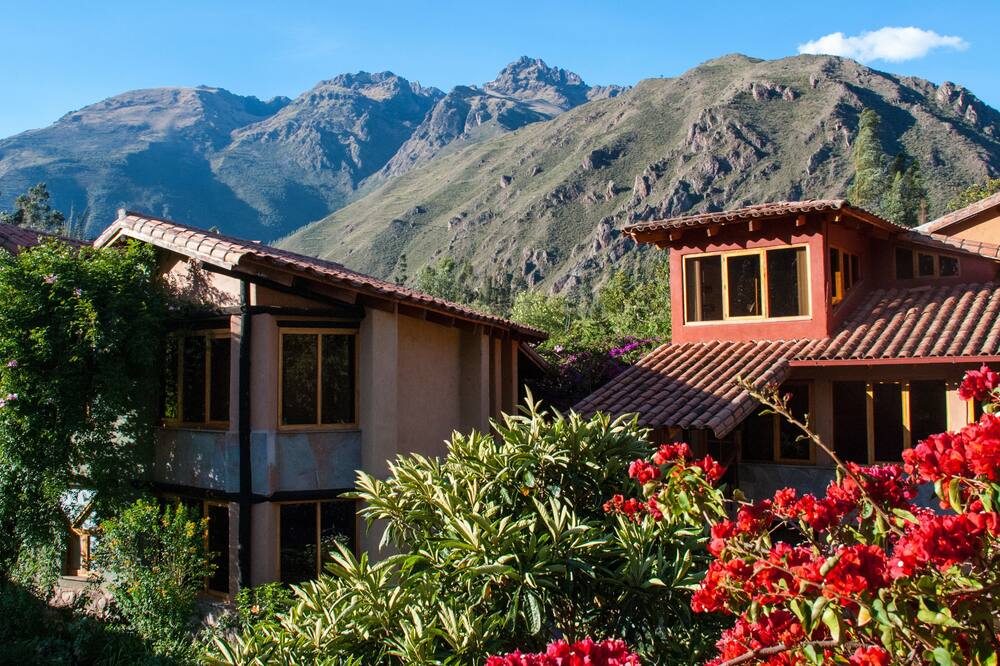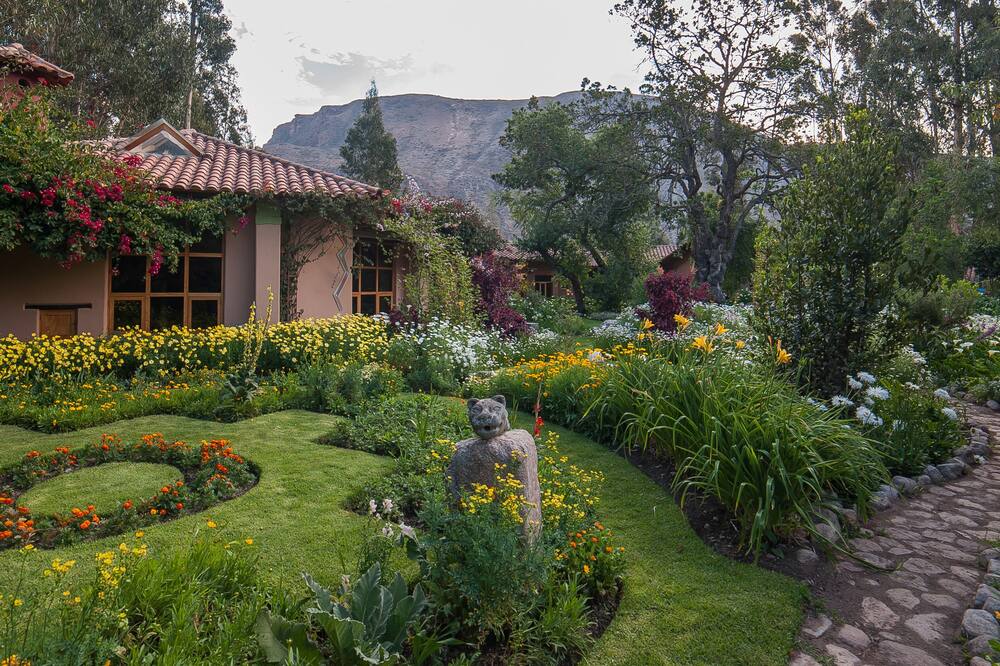 Accomodation Options:
Garden singe room with a double bed, has access to the gardens with views of flowers, trees and mountains. All have portable heating and modern private bathrooms. Cozy rooms, recently renovated reflect the textures and colors of the Andes.
The Garden Double and Triple rooms with twin beds have access to the gardens, with beautiful views of flowers, trees and mountains. All rooms have portable heating and modern private bathrooms with an excellent hot water supply.
The sustainably designed guest rooms reflect the textures and colors of the Andes. The cozy garden rooms, recently renovated, are purposely tucked away in charming areas throughout the gardens.
Each guest room is uniquely designed and decorated and is named for the Andean medicinal plant that grows at its doorstep. Fresh flowers welcome all guests and cozy hot-water bottles warm beds at night.
Pricing Information:

Shared Room (Double or Triple Occupancy) / Shared Bath $3720 (early bird before November 30th) per person / regular pricing $4020 per person

Private Room / EnSuite Bath $4460 (early bird before November 30th) per person / reg $4760 per person

Easy Payment Plan Available if requested.

To hold your spot please make the non-refundable $750 security deposit.

Price includes - ACCOMMODATIONS - ALL CLASSES & WORKSHOPS - 3 MEALS A DAY * except where noted above - EXCURSION FEES - ENTRANCE FEES - GROUP TRANSFER TO/ FROM CUSCO AIRPORT - INLAND TRANSFERS TO WILLKA T'IKA - EXCLUSIVE ANDEAN GUIDE